The Roger Phillips Trophy shoot was held at the Drayton Parslow shooting ground on Sunday 27th December.  The shoot was a hundred bird shoot over 12 stands, with a handicap shoot.  The day was damp with light rain, but incredibly warm for a December.  No wind to affect the flight of the clays.
The handicap was worked out thus.  Before we started the shoot, 6 stands were picked randomly, the scores for these stands were then added up. The person with the highest score over the six stands (Helena 43) was then used as the scratch score. So everyone below this score would then receive a handicap.
The handicap was won by Wally.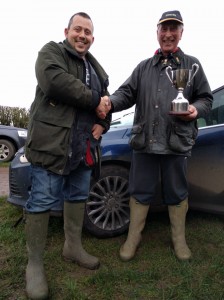 The final overall scores out of 100 before the handicap was applied are as follows
Helena. 86
Andy. 82
Mark H. 78
Mark. C 77
Mark. P 76
Peter. 74
Wally. 70
Geoff. 68
Steve. 65
Jim. 64
Jennifer 64
Tod. 61
Adrian. 60
David. 35
With the handicap applied to the scores on the second set of six stands the results were as follows:
Wally. 51
Tod. 48
Jim. 47
Jennifer. 45
Peter. 45
Steve. 44
Mark H. 43
Mark P. 43
Helena C. 43
Mark. C. 42
Adrian. 41
Geoff. 41
Andy. 41
Dave. 36.