Useful Clay Pigeon Shooting Links
See below for a list of useful links. If you would like to swap links with Kingswood Gun Club and feel that your business would benefit our members, please contact us here with full details. A link back to our site would be appreciated!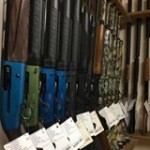 D B Guns. We are your one stop shop for all your shooting needs. Retailers of shotguns, cartridges and clays. Rifles, ammo, air rifles country clothing and more.

The CPSA is the National Governing Body for Clay Target Shooting in England, supporting clay target shooting enthusiasts across the UK. As an association we promote the highest standards of excellence in every aspect of our sport

Our mission is to promote and protect sporting shooting and the well-being of the countryside throughout the United Kingdom and overseas. We represent our members' interests by providing a voice for sporting shooting

A guide to clay pigeon disciplines including diagrams