MEMBERSHIP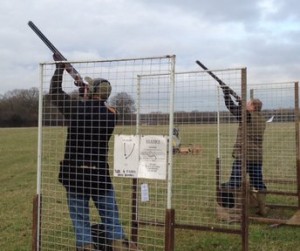 Becoming a member of Kingswood Gun Club is very easy, it is our clubs policy to actively encourage all members into the club. You can download our Membership pack by clicking on the link at the bottom of this page, this pack contains all the forms you need to fill out and return to us. Before returning the forms, please contact that club through the Contact Form.
If you hold a shotgun certificate then please contact us as you are welcome to pop along for a taster session. We ask for a fee of £15 for this taster session on a Sunday practice, to cover the cost of clays and our time. Please contact the club secretary or chairman first for further details. Please use the Contact Form.
Cartridges are available on the day but you are more than welcome to bring your own along, please note these must be FIBRE WAD only.
PRACTICE AND LEAGUE SHOOTS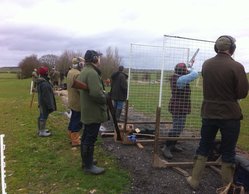 As a Kingswood Gun Club Member we all meet up for practice shoots on the 1st and 3rd Sundays of each month, we do a structured practice on the first practice of the month, this is aimed at sorting out any of your "bogey" clays, which we all have, the stands are set up to practice these, the second practice of the month is set up at random for a more of a fun shoot. To help keep the cost of practice sessions as low as possible we do expect our members to help set up and clear away the clubs equipment at the end of the session, this is also a great opportunity to get "hands on" with all the equipment we use while being under the watchful eye of the clubs fully qualified BASC Safety Officers which is all part of the fun.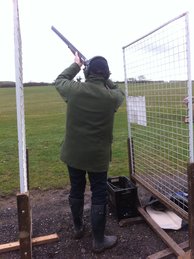 Many of our members also participate on other shoots. Joining the club is a good way to meet others people and shoot at other sites with like-minded people. For instance, on the 2nd Sunday of each month, many of us participate in the Sunday Sporting League shoots. Most of these events are local but most of all is great fun! (see events/league shoots page for more details)
Below is the what we aim to work during a standard practice shoot, but it does vary!
09:30 – Arrive and help set up the equipment, traps, cages etc

10:00 – Shooting commences
11:15 – Break for tea/coffee & biscuits
11:30 – Shooting continues
12:15 – Shooting concludes
12:30 – Clear away equipment
MEMBERSHIP RATES 2020
Annual Membership £30.00 – No joining fee
Under 16's – £15.00 per year – No joining fee
Sunday Club Practice Session
s for Members (
inclusive of 50 clays
)
£10:00 per adult shooting
£5:00 per junior shooting (under 16)
Non-members, guests, other clubs and individuals (inclusive of 50 clays)
Non-members may shoot at Sunday Club Practice Sessions, but please contact us in advance
£15:00 per guest shooter
MEMBERS BENEFITS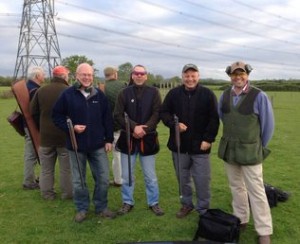 There are many benefits of being a member of the Kingswood Gun Club, not least being with a group of friendly like-minded shooters.
Cheap Practice rates

The choice of three different practice grounds
Club competitions & exclusive club invitations

Qualified instructors lessons (

when available

)

Join other members to shoot at other grounds and clubs

Be part of a growing club team, & much more!
Only Fibre wad cartridges are allowed at our shooting grounds
MEMBERSHIP & SAFETY FORMS
You will need an Adobe PDF reader to look at and print these forms off. Click on the links below.
POLICIES
Safety Statement
Download the safety statement here: Safety Policy Statement
Safeguarding Children
The Kingswood Gun Club position is that child protection is everyone's responsibility.
Child abuse can and does occur outside the family setting. It can happen wherever there are children and at any time; at school, in the park, at the club. Sadly, there are some people who seek to be where children are simply in order to abuse them. Recent inquiries indicate that abuse that takes place within a public setting is rarely a one‐off event.
Everyone in the Kingswood Gun Club membership has a part to play in looking after the children with whom they are working. This is both a moral and a legal obligation.
The Policy is to protect children, everyone involved in shooting needs to see and discuss this Guide.
Our policy on child protection is the policy of the Clay Pigeon Shooting Association Ltd (CPSA) which can be downloaded here.
If you have any doubts about the policy, procedures and what constitutes good practice in this area please contact the club chairman.
Safeguarding Adults
The Kingswood Gun Club is committed to creating and maintaining a safe and positive environment and accepts our responsibility to safeguard the welfare of all adults at risk involved in shooting in accordance with the Care Act 2014.
Our policy on safeguarding adults is the policy of the Clay Pigeon Shooting Association Ltd (CPSA) which can be downloaded here.
If you have any doubts about the policy, procedures and what constitutes good practice in this area please contact the club chairman.